10 Best Minecraft PE Survival Mods: Mods in Minecraft PE make the gameplay experience much better and exciting with the addition of several unique features and enhancements. In this article learn about the 10 Best Minecraft PE Survival Mods that you should try this year.
Check – Top 5 Open-World Mobile Games
10 Best Minecraft PE Survival Mods
To use all these mods you must turn on your all the experiment settings while creating your new world.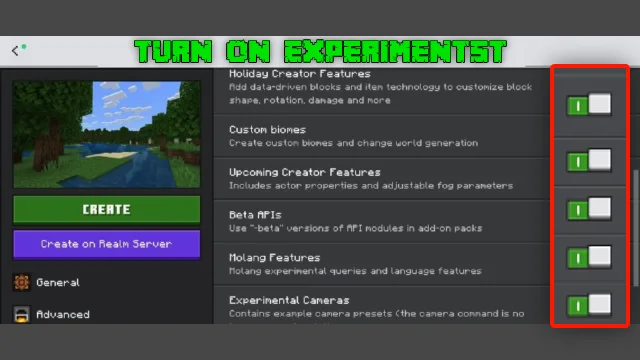 1. Raiyon's Tools Expansion
The Raiyon's Tools Expansion is one of the best items mod for MCPE which adds more than 80+ tools and items in the game. This helps you out making several new armor and tools with different types of abilities in the game. These are some featured tools of Raiyon's Tools Expansion Mod For MCPE:
Enderian Tools
Sculk Tools
Soul Soil Tools
Amethyst Tools
Quartz Tools
Copper Tools
Emerald Tools
and many more…


2. The Enderneath
This is one of the most awaited mods for Minecraft PE coming at second position in our 10 Best Minecraft PE Survival Mods list which allows you to play in the New End Generation with new biomes in the game. New mobs like Ender Toad, Spinshell, LEUISTIC ENDERMAN, and Enderling are introduced in the game.
New Mobs
New Biomes
New Endercrust


Check – How To Customize Touch Controls in MCPE?
3. Creeper Overhaul Addon
If you are bored with your normal creeper mobs in the game to fight then the Creeper Overhaul Addon is just for you as it adds more 8+ different types of creepers in the game. All the newly added creepers in the MCPE from this creeper overhaul mcpe addon have unique looks and abilities. These are different types of creepers available in this addon: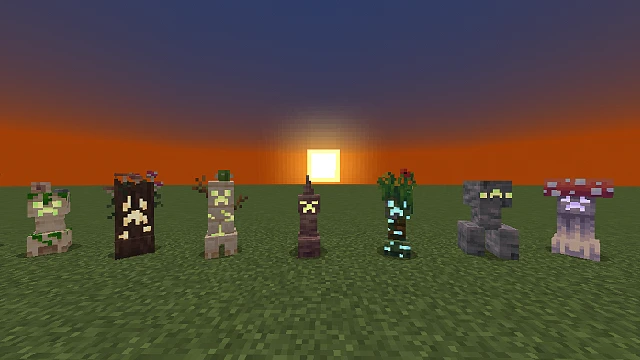 Badlands Creeper
Bamboo Creeper
Beach Creeper
Cave Creeper
Dark Oak Creeper
Desert Creeper
Dripstone Creeper
Hills Creeper
Jungle Creeper
Mushroom Creeper
Plains Creeper
Savannah Creeper
Snowy Creeper
Spruce Creeper
Swamp Creeper
and many more…


4. FurniDeco Addon
In our 10 Best Minecraft PE Survival Mods list, we have one of the best furniture mod for MCPE addon with vanilla graphics named FurniDeco mod for Minecraft PE. This mod adds 25+ pieces of decorative functional items to the game with 80+ variants which will help you craft endless furniture items for your house to decorate it.


5. MORE ORES TOOLS
The more ores tools help you craft different armor of different types like ruby armor, cobalt armor, etc. Also, in the updated version more types of minerals and ores have been added with new features in the game. These minerals are available in the game:
Silver
Orichalcum
Titanium
Aquarium
Topaz
Mithril
Platinum
Adamantite
Tin
Tourmaline
Bronze
Ruby
Jade
Onyx
Cobalt
Enderite
Migtinio
Palladium
and many more…


Check – Minecraft Java Edition Apk
6. KAIJU MUTANT MOBS
This impressive mod for Minecraft PE brings the aesthetic style of Minecraft mutant mobs into your game. The Kaiju mutant mobs are one of the best mob addons for MCPE to have a try. Based on the Godzilla you can find some amazing large giant mobs in the survival world to fight. These are the mobs you are going to experience in this mod for MCPE:
WardenZilla
WardenNautilus
Widora
Turtlgera
Rophantam
Mothree
Mosscrawler
Iron Kong
and many more…


7. Effect Pillars MCPE
Do you like using beacons in Minecraft? So, this addon places some different unique pillars having some special abilities and will help you protect your bases from monsters and mobs. Also, you will be able to modify the range of each effect of the structure pillar.


8. Insares Warfare
Using weapons in the MCPE would be surely a great option to kill mobs far away from you easily and will help you during the raids. So, our 10 Best Minecraft PE Survival Mods list consists of the Insares Warfare 3D Weapons Mod For Minecraft PE Survival mode, which allows you to use 100+ weapons in the game. These weapons will be available in this addon:
Grenade pack
Snipers
Rifles
Pistols
AR Guns
Machine Gun
WW2 pack
Modern Warfare Guns Pack
and many more…


9. Block Armor Addon
This is the latest new Block Armor Addon for Minecraft PE which allows you to make armor of each block present in the game with their different abilities which is pretty awesome to play in the survival world. With the armor, you can also make tools like swords, pickaxes, etc. to complete your armor set.


10. True Weapons Addon
The tools in Minecraft are limited but what if more aesthetic-style tools were introduced for MCPE? The True Weapons Mod for MCPE allows you to add different types of tools and weapons within the game which has vanilla textures and looks awesome and also you will be able to enchant all those items with your crafting table. These are the tools available in this mod:
Knife
katanas
Ninja Swords
barbed mace
war fan
kama
bearded axes
Dane axe


11. Bonus Addon – Chetty's Waypoints
While mining in a different location far away from your base, you can find that after a long time, you forget the locations where you have been before. So, Chetty's Waypoints Addon helps you there, with this addon, you can save your locations in the book and teleport anytime you want.


Check – Download GTA India 7.0 New Version
Check – Best Fan-made GTA 5 Mobile Games
Check – Top 5 Open-World Mobile Games
Check – BEST Multiplayer Games For Mobile
Check – GTA 5 Mobile Best Alternative
Check – Best Shinchan Games For Mobile