Are you looking for a program to control your computer's fans, also using the fans in different scenarios is much more important for the consumption of full power of fans while gaming for cooling the system. Luckily you will be happy to know that there are many many programs that will be helping you to behave with your fans in a manner you want them to. The fan control software will give you the ability to control your PC fans according to the temperature.
In this article, we had listed some of the best fan control software tools for windows that will be helping you to manage your fan speeds. Some programs have many other useful features too including the fan control system which brings tools for system monitoring, warnings for failing drives, and even overclocking tools. So if you're looking for a program that helps you customize your fan settings check our recommendation below.
Best Fan Control Software for Windows
First of all, make sure to have a modern gaming pc to get the best results. PC enthusiasts love customizing their systems every time they want. Finding the perfect fan control software is pretty difficult for some people, but for them, this article brings the top best Fan Control Software for Windows to use.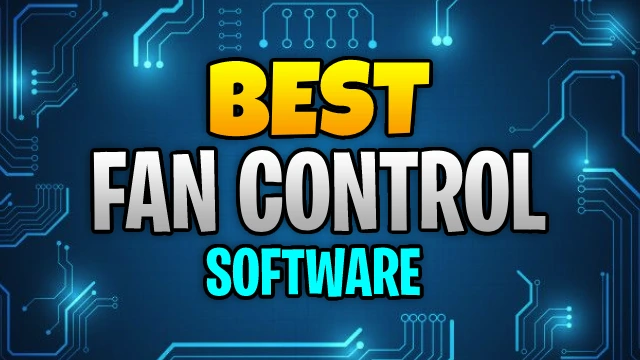 1. EasyTune 5
With EasyTune 5, you receive plenty of more other tools that tool to monitor your fan's speed. The program also has many useful features at your disposal if you probably didn't know you needed them.
The EasyTune 5 software also features the most concerned Smart-Fan control system. This feature provides total direct control over your CPU cooler's fan. By applying the easy mode you can configure this feature easily.
You will be able to set the speeds of your fans according to the CPU's temperature easily. Just keep one thing in mind, avoid setting the threshold too high, it will prevent your CPU from getting the airflow that needs for operating correctly.
If you are in search of a perfect program that can help you to overclock your CPU, EasyTune 5 can do it for you as well. You can get more performance with much more power out of your CPU and features like Memory Intelligent Booster 2 (MIB2) and CPU Intelligent Accelerator (C.I.A.) can be found in the program's advanced mode.
2. Fan Control
Firstly Fan Control was created by an independent developer also very easy to use, for beginners. The fan control software is easily available to access. With the Fan controlling tool, you people can easily CPU, GPU, motherboard, storage device temperatures, and usage data.
This program gives you total control over the fans in your system (including each and individual fan of the Graphics Card) also you can create custom fan curves. The software is totally free to use also the developer accepts donations (on GitHub).
3. Zotac FIRESTORM
This is another handy software coming up with the utility to overclock and fan speed controller making this program good to use. Zotac is no stranger to the PC gaming industry as they sell both Gaming PCs and graphics cards for the people.
Apart from that, the Zotac FIRESTORM has a very easy-to-use interface with standout features, with this program you can overclock your GPU and set the custom fan curves making your cooling system much more efficient, and also you can monitor your performance easily.
Remember that, although Zotac FIRESTORM does not give the CPU fan controlling option it will be giving you full control over your graphics card and its fans. If you are looking to control the fan speeds of your GPU card surely this program will be an excellent choice to get.
4. HWMonitor
HWMonitor is also another software on our list that has been quite for a while. This software is packed up with all the features that other programs have. As once installed, it monitors your system's main sensors. Information includes voltage, fans' speed, and temperatures. Also reads the drive's S.M.A.R.T. vital stats to keep an eye on the video card's health.
This software provides a simple straight way to control your fans (including your CPU cooler's fan). And if you want to keep tracking the power usage of your PC then this program comes with the tools to monitor the CPU voltage and motherboard's voltage, as well as the overall system's power consumption in watts.
The only drawback that HWMonitor has it takes a little bit of time to understand the interface of the program. But once you become familiar with it you will never think of other any kind of software or use any other application.
5. Argus Monitor
If you're searching for lightweight fan control software, then Argus Monitor is probably the best for you. Having a small memory footprint will give you full control over the fans' speed and also it monitors the health of your CPU with the temperatures and hard drives and SSDs.
Running in the background task with lots of features brings the Argus Monitor Software with itself. In addition to that, this tool also shows options for controlling the fan speed of modern NVIDIA and AMD graphics cards. This particular thing is a much more important thing and useful feature for gamers.
Argus Monitor can help you identify early signs of warning of failing hard drives and SSDs. The software warns you (with 70% of accuracy) that your drives are failing. This will help you to take a backup of all the important files from the old drive.
The interface is much easy to configure and understand, this software comes with all the needed tools to run your PC smoothly. Only the drawback is that it gives you a 30-day free trial after that you will have to purchase a license to continue using this software.
Conclusion
Although there are many different other programs available with similar features and monitoring parameters, you can choose and pick the perfect software according to your needs. Moreover, some of the Best Fan Control Software for Windows is listed above that will be helping you to gain better control over the fans in your system to reduce the noise and improve temperatures.
Check Out Other Articles Too!
Check – Best Vertical Mouse For Gaming
Check – GTA 5 Low-End PC Best Settings To Increase FPS
Check – Get Attack on Titan Skin For Free in Fortnite
Check – Tips to Fix Wireless Charging in iPhone 14