Best GTA 5 Mod for High FPS: As we know that playing GTA 5 with High FPS is a kind of best experience for every gamer. But what if comes to low-end PCs because the frame rates are much low. In this article, know about the GTA 5 FPS Booster Mod and the best FPS booster settings for low-end devices.
GTA 5 FPS Booster Mod is one of the most searched mods by low-end PC users as they are looking for a better gaming experience. Also in this article, I am sharing some best settings for low-end PC to play GTA 5 smoothly without any lags and bugs i.e GTA 5 FPS Booster Settings For Low-End PC.
Best GTA 5 FPS Mod For High FPS For Low-End PC
There are many FPS Booster Mods for GTA 5 helping users to increase the FPS in the game making the game much smoother to enjoy and play. Real FPS Boost Settings 2.0 Mod, you can use for increasing your FPS in the GTA 5 as this mod is used by many people.
GTA 5 FPS Booster Settings For Low-End PC
You can Turn off or lower graphics enhancements like Anti-aliasing, shadows, reflections, and Vsync it will be helping you a lot in increasing your FPS on your low-end pc.
Then, while running the game and playing for some time, press Ctrl+Shift+Esc and see the RAM and CPU usage in the task manager. Try closing all other background programs while playing the game if possible.
If anyone or both of them are nearing 100%, then proceed ahead. If possible, try upgrading your RAM – it's cheap and very effective for providing and improving the overall performance of your system. Also, you can use the low graphics mod for GTA 5 for low-end PC. Check out the best Cheap Rams.
You can also upgrade your graphics card with the newer model for increasing the performance of your PC which will help you to increase fps in GTA 5. Here are some best tips for increasing FPS in GTA V for low-end PCs:
Tips To Increase FPS in GTA 5 for Low-End PCs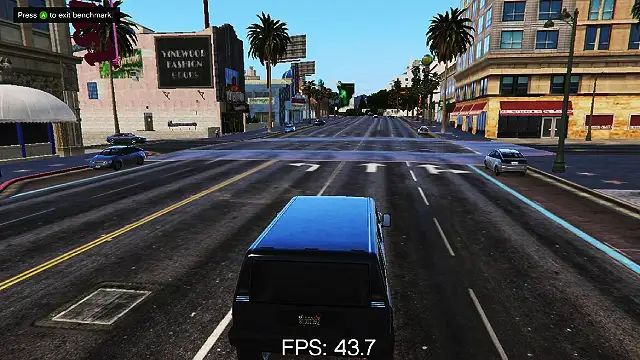 Decrease Your Screen Refresh Rate

Reduce the post-processing effects of the game

Disable the AAA filtering

Reduce the in-game population

Disable V Sync and Tessellation Settings

Reduce the Grass quality, water quality, shadows, and reflections with the Texture detail value, and the draw distance can be set according to the system's performance and peripherals.

Why do your Frame Rates drop in GTA 5?
The frame rates in GTA 5 totally depend upon your PC specs and the graphics settings. The recommended graphics card is 4 GB to run the GTA 5 smoother with a decent amount of FPS between 40 to 50 FPS at 1080p Medium Settings. Having a processor that matches or is suitable with your graphics card will be helping you to avoid bottlenecks in your system.
Best GTA 5 Settings For 2Gb VRam PC
You can apply the following settings in GTA V if you have 2GB VRAM:
These settings are suitable for the 2GB GPU.
Go to GTA 5 settings and to graphics.
FXAA – on
Vsnyc – off
Textures – Very high or high depending on your GPU (I use very high which gives 40+ fps and high gives 50+)
Shader quality – Normal
Shadow quality – Normal
Reflection quality – High (gives a little bit more fps than very high)
Reflection MSAA – off
Water Quality – High or very high
Particles quality – High
Grass quality – Normal
Soft shadow – softest
Post fx – Normal
Anisotropic filtering – your choice (Use ×16 to make the game quality better)
Ambient Occlusion – OFF
Tessellation – Off.
Apply settings and restart the game and see the game performance. Set everything to the off and lowest setting in the advanced graphics section.
Conclusion
The best tips and GTA 5 FPS Booster Settings For Low-End PC had been shared in this article, for all the users I had also shared Best GTA 5 Mod for High FPS. After following all the tips if then also you are facing issues let us know in the comments below to get the solution.
Check Out Other Articles Too!
Check – How to Play GTA 5 on Mobile Without PC?
Check – IS GTA 6 Coming For PC and Mobile?
Check – Is GTA Trilogy Coming For Mobile Devices?