My Restaurant Alien Patch Notes: Jumping into the world of Roblox, a New Update in the Roblox Restaurant has been coming out. A new stellar update that is out of the box for the players featuring various positive things. Dubbed the "Alien Update" the My Restaurant Alien new update introduces a wide range of intergalactic-themed features & improvements to the game.
Roblox Restaurant Alien New Update Patch Notes
The My Restaurant Alien will be going to provide a new Alien Customer type, an Alien-themed restaurant with the new outer space furniture, and a game pass for faster service (Auto Seat). Players will be finding out new cosmic items for sale such as Black Hole Display Case and telescope, as well as the UFO throne with the new UFO table. Take look at My Restaurant Alien Patch Notes below for more details.
Also Check – Roblox New Game Codes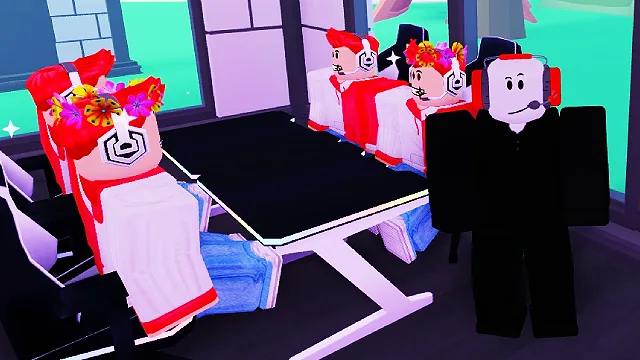 My Restaurant Alien Patch Notes
New Alien-Themed Restaurant To Explore
Launch Your Next Dinner into space with the new alien-themed restaurant to a galaxy far far away. Make your alien customers feel right at home with Space themed restaurant.
New Alien Throne
For any extraterrestrial being the new throne will be perfect. Have a look over the Alien Throne now in the shop. This item will be attracting your alien customers a lot.
New Alien Customers
From the new galaxies, the new Alien Customers arrived at the moment. Look for new customers in your restaurant now. 
New UFO Alien Table
Have you thought about what aliens serve their food on? Check out the new UFO Table now in the shop. This item will surely attract your next alien customers to your Roblox Alien Restaurant.
New Black Hole Display Case
The ultimate cosmic attraction is here, the new black hole display will be attracting most of the customers and surely you should consider the display case. With the powerful black hole increase your chances up to 85% to attract new alien customers since your customers won't be able to resist the gravitational pull of this new cosmic item.
New Observatory and Telescope Item
Jump into the depth of the Universe with the new observatory in the game, with a new cosmos telescope item.
New Auto-Seat Customer Gamepass
New Gamepass is allowing you to seat the customers way faster. They will be seated automatically without waiting for a waiter.
Big Changes in Roblox Restaurant Alien New Update
Exciting Fresh experience in My Restaurant with Updates and tons of Ui

New Easy-to-use shop interface

For new players revamped tutorial

New Global Like Boost Goal Option Added

Minor Bugs fixes with improved game feel and experience.
Check Out Other Articles Too!
Check – GTA 5 Low-End PC Best Settings To Increase FPS
Check – Get Attack on Titan Skin For Free in Fortnite
Check – How to Play Fortnite New Season on Android?