As we all know, playing Minecraft with a good amount of Frame rates makes your game much smoother and easier to play. Minecraft Legends is the newly launched latest addition to the Universe of Minecraft games packed up with the delighted action and strategy for creating a unique experience. This game can be played on PC via Steam and Xbox App and Xbox Consoles.
Since the PC version is not much demanding compared to Minecraft Java Editon, the problem of sticking to get more FPS is common in this version of Minecraft. But for solving this problem we came across Minecraft Legends Best Graphics Settings For High FPS in this article for you all. Here are some best Minecraft Legends Best Graphics Settings For High FPS that you should definitely try for improving your gameplay experience.
Check – Minecraft Mods To Try in 2023
Minecraft Legends Best Graphics Settings For High FPS
These are the minimum and recommended settings for Minecraft Legends to achieve the best Graphics with High FPS in the game.
Minimum

Re

commended

OS

Windows 7,8,10 64-bit

Windows 7,8,10 64-bit

Processor

Core i5 2.8GHz or equivalent

Core i5 3.4GHz or equivalent

Memory

8 GB Ram

8 GB Ram

Graphics

NVIDIA GeForce GTX 660 or AMD Radeon HD 7870 or equivalentt DX11 GPU

NVIDIA GeForce GTX 1060 or AMD Radeon FX-4100 Graphics

DirectX

Version 11

Version 12

Storage

24 Gb available space

24 Gb available space
As this is not much demanding title, having GTX 1060 will be perfect for you as you will be able to run it smoothly for the most part of the game. If you are looking to play this game with better framerates with a higher resolution then you will have to do some adjustments.
Check – Minecraft Best Automatic Farm Ideas
Graphics Settings For Maximum FPS
Exploring the settings area, we figured out that there are not a lot of settings available to adjust according to our choice but one actual setting named "Rendering detail level" handles everything to adjust the quality of graphics while gameplay in the game. This could be a little bit disappointing for some people, but you could follow the recommendations to consider a well-balanced performance in the game.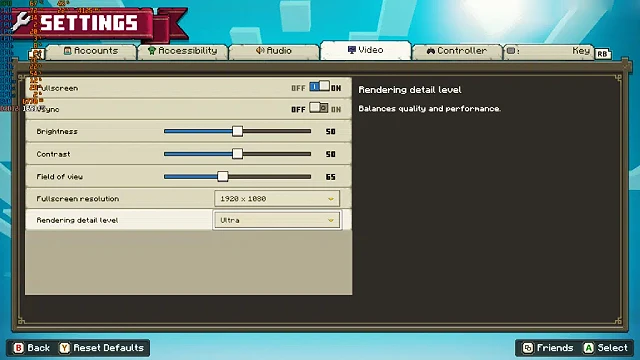 If you are the one having a quite good capable GPU then you can surely leave the "Rendering detail level" at Ultra but for the maximum FPS optimization in the game, you should set it to High, which still looks great there is no noticeable quality difference in both the settings. This simple change from Ultra to High can improve your FPS by up to 25%.
But what if you turn things a little down from HIGH to MEDIUM then it will be going to reduce your render distance, foliage quality, and shadow depth, but it also looks quite well and absolutely good enough to enjoy the game. But the Framerates get boosted by up to 40% in the game and easy to achieve better FPS gameplay in Minecraft Legends.
Check – How to Play Fortnite on Unsupported Devices
In our tests, Minecraft Legends on Ryzen 5 3600 when paired with an RTX 3060 with 16 GB of Ram we got some of the best results. As our game was installed on an SSD while using 1080p to our target resolution, these are the results of each level of detailing.
| | |
| --- | --- |
| Rendering Detail Level | Average Framerate |
| Ultra | 135 FPS |
| High | 164 FPS |
| Medium | 231 FPS |
| Low | 248 FPS |
Moreover, reducing the graphics settings down to medium will be helping you a lot to achieve better framerates in Minecraft Legends. But for the perfect balance of visuals and performance, you can set settings to High, this will make your game much more enjoyable to play.
I hope that our recommended Minecraft Legends Best Graphics Settings For High FPS will be helpful to you in improving your experience, let us know your questions in the comments below.
Read More Here!
Check – BEST Vertical Gaming Mouse For Minecraft
Check – Minecraft Java Edition For Android
Check – Tips to Fix Wireless Charging in iPhone 14
Check – How to Play Fortnite New Season on Android?