Slap Mod For GTA 5: Are you also wondering to know How To Download and Install Slap Mod In GTA 5? But you will not have to worry about it since, there are an endless number of pedestrians passing peacefully while walking on the road, and nothing is better than knocking them out with a slap. In very rare instances, you might have slapped randomly to pedestrians while playing as Franklin, Trevor, or Micheal.
But be guaranteed to slap any pedestrians near you with the best slap mod for GTA 5. The best is that you can easily slap them in slow motion which looks quite interesting and enjoyable moment. But how to download and install the slap mod for GTA 5? In this article, get a perfect guide to install Slap Mod in GTA 5.
Check – Minecraft Mods To Try in 2023
How to Install the Slap Mod in GTA 5
You can easily download the Slap Mod from the gta5mods.com website. Before installing this mod, make sure to have ScripthookV Library and Community ScripthookVDotNet ASI plugin. If you didn't, then you can download these files easily via GitHub. Then check for the scripts Folder in the GTA 5 main directory this is the important thing required to Install Slap Mod In GTA 5. If it is absent then create one new folder for yourself naming it "scripts". Once you gathered all the required files, then here's how To Install Slap Mod In GTA 5:
Check – Best Fan-Made GTA 5 Games For Android
#1 First of all, download the slap mod from gta5-mods.com. Click on the green download button to start downloading your mod.
#2 Now extract the mod files into the scripts folder (present in GTA 5 Main Directory) using the WinRAR File archiver.
#3 Simply open up the ScriptHookV zip file using the WinRAR or 7Zip file archiver.
#4 Open up your Bin Folder and copy two .dll files from that folder. The names of these files are "dinput8.dll" and "ScriptHookV.dll".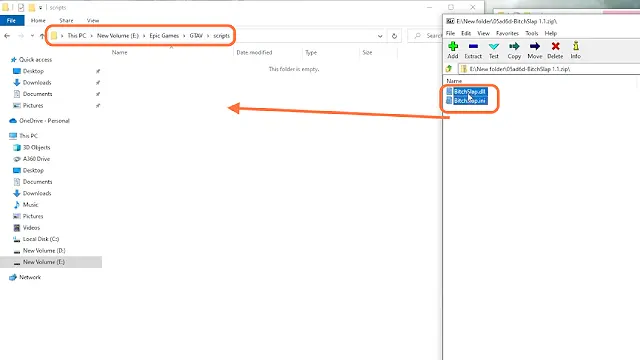 #5 Then simply paste both files into GTA 5's Main Directory.
#6 Now, open up your ScriptHookVDotNet zip file.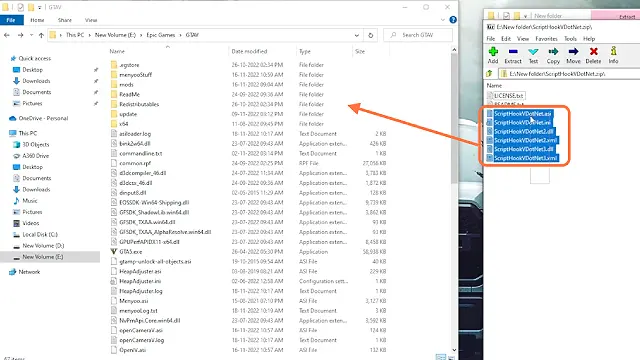 #7 Copy all the files except the text files from the zip file and paste them to the Main directory of GTA 5.
#8 All steps are done, Now Launch Your Game.
How Do You Slap in GTA 5?
With the slap mod installed in GTA 5, you will have to press the J key Button on the front or backhand and slap any nearby pedestrian. But if you are looking to slap any pedestrians in slow motion or differently, so follow the given steps below: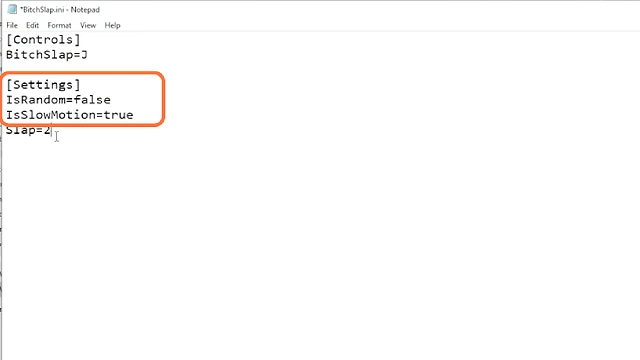 Navigate to the Main Directory of GTA 5 and open the .ini config file.

As you will open up the configuration file as a text file, edit and set the "IsSlowMotion=true".

If you want to randomly slap front and backhand slap anyone, set "IsRandom=true".

Also for more, you can easily change the controls for the Slap by editing the .ini file.
Check – How to Play GTA 5 Without PC?
Why Should I Install Slap Mod In GTA 5?
The slap mod for GTA 5 brings the best ever enjoyable experience to all the players. Bringing the ability to hit pedestrians in a new is just too amazing and interesting, for the people who were looking to slap pedestrians in the GTA 5 is just now possible through the simple install Slap Mod In GTA 5. You should give a try this mod if you are tired of playing GTA 5 with older fighting moves add-up this move to your inventory of skills to fight the pedestrians with a slap by your hand.
Check – BEST Vertical Gaming Mouse TO Get
Conclusion
All the details and features of the slap mod for GTA 5 are discussed in this article with a perfect guide to install slap mod in GTA 5. The people who are looking for something new in the game should definitely try this mod you will be enjoying this mod playing a lot knocking our pedestrians walking through streets peacefully. So, Install Slap Mod In GTA 5 and start enjoying this mod.
Read More Here…
Check – Minecraft Best Automatic Farm Ideas
Check – How to Play Fortnite on Unsupported Devices
Check – GTA 5 Low-End PC Best Settings To Increase FPS
Check – Get Attack on Titan Skin For Free in Fortnite
Check – Tips to Fix Wireless Charging in iPhone 14